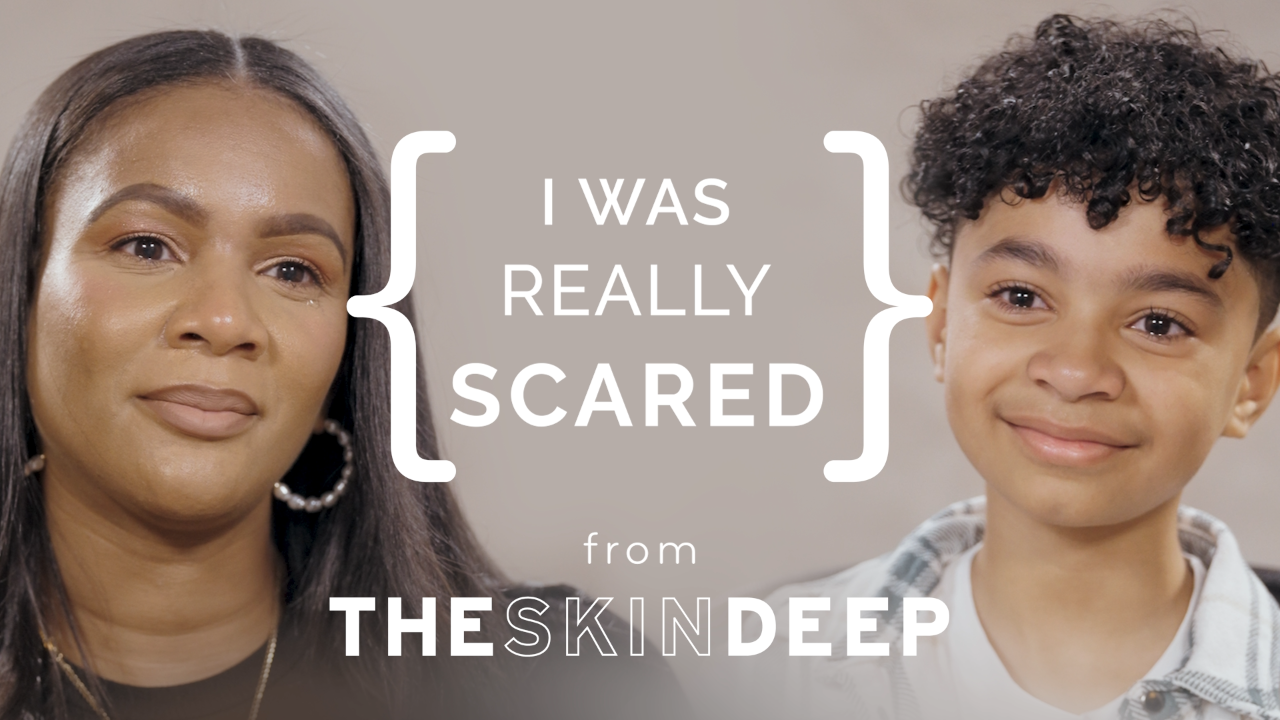 In This Video
Chase (he/him) and Asia (she/her) are mother and son. Their relationship is strongly based on constant communication, honesty and lots of love, they have a very strong, tight bond and family is extremely important to them. Chase's birth changed Asia's whole perspective on life and it gave her a purpose. They both put a lot of effort and intention into their relationship and that has led to them getting to know each other on a much deeper level than the conventional mother-son relationship. Asia tries to prioritize self-care (her individuality, goals and dreams) in order to be able to take care of Chase as best as she possibly can. They're constantly learning from each other and having fun together is a big deal for them as they truly enjoy one other's company. As we explore new perspectives we invite you to step into the emotional space of connection and experience the deeper lessons that shared experiences can afford humanity. To everyone who has participated openly and vulnerably in our project - we appreciate what you have shared with us and hope others do as well.
Transcript


0:03
When you think
0:04
about the first time we met
0:06
what do you remember feeling?
0:08
(Laughs)
0:09
This is way too early in this to be crying.
0:12
Um...
0:15
First time we met
0:18
in person
0:21
was when you came out and
0:28
I don't know how to quite put that in words,
0:33
but if I could try, I would say
0:37
I was proud, um
0:43
and overjoyed.
0:44
It's like
0:48
a million Christmases in one moment.
0:55
So yeah.
0:56
Don't make me cry.
0:58
No, I'm... (laughs).
1:00
I knew this was going to happen
1:02
eventually that's why I brought my tissues.
1:05
But yeah, that was our first meeting.
1:07
And I was really excited.
1:10
I was scared.
1:14
I was really scared.
1:17
But
1:19
even with like all of the fear
1:24
and a whole bunch of things
1:26
going through my head,
1:29
I felt ready, like,
1:31
"Here we are
1:33
and we're about to do life together".
1:37
That's it (laughs).
1:40
Yeah. All right.
1:43
We are cryers over here, so.
1:49
You're okay? - Mhm, yeah.
1:54
You're shedding a little tear.
2:00
What do I do
2:01
that makes you feel I understand you?
2:05
Checking up on me every day.
2:07
Like having conversations with me every day.
2:10
Just like that, like,
2:12
you could be on break or something
2:15
and you just come into my room
2:17
and it's like, "Hey, what's up?" - Mmhm.
2:21
So— - Yeah.
2:25
What's some things you never
2:28
would have done if it wasn't for me?
2:32
Some things I never would have done...
2:36
A lot, um.
2:40
I think before you came
2:45
I wasn't really focused on my purpose.
2:58
Before you I also wasn't
3:01
intentional about unpacking
3:02
some of the things that I had
3:03
experienced growing up. So,
3:08
if it wasn't for you,
3:10
I don't know if I would have started therapy
3:13
when I did
3:14
and, um, just started to be really intentional
3:18
about my healing process.
3:23
I reconciled my relationship with Papa
3:26
while you were in my belly, um
3:31
and I don't know if that would have happened
3:36
had it not been for me being in that moment
3:39
with you in my belly and knowing that
3:42
I got to get it together for you (both laugh).
3:46
Really. So...
3:49
yeah.
3:53
What's...
3:55
What about this next one...
3:58
Mm.
4:03
What does family mean to you?
4:07
Mm.
4:08
Means a lot of things to me.
4:10
It means like peace to me.
4:16
Like...
4:19
I can't describe it in no other words,
4:21
is it peace. Peace?
4:24
Yeah, 'cause my family brings me peace.
4:28
So that's why. Mhm.
4:32
But what about you?
4:34
What does family
4:35
mean to me?
4:41
For me, family is
4:46
a safe space.
4:49
Um...
4:52
And really like belonging to something.
4:56
To a whole unit.
4:58
So...
5:03
And outside of the safe space,
5:05
I think I'm still discovering that as we
5:09
move forward and continue
5:12
to love on each other and learn
5:16
every day, I feel like I'm like, "Wow,
5:20
my family provides me with this"
5:22
or "I feel this when I'm with my family", um...
5:27
So yeah, I feel like that's also evolving.
5:33
How are you raising me differently
5:36
than you were rai—
5:37
(both laugh) than you were raised?
5:40
And why? - Um...
5:46
What am I doing
5:47
differently? Um...
5:52
I think really getting to know you
5:55
as an individual outside of
5:59
your title or the role of son.
6:03
Um like, I want to know what Chase likes,
6:06
what Chase enjoys, what movies Chase likes.
6:09
You know? What Chase wants to wear.
6:15
So, being intentional about getting to know you
6:18
as an individual, um
6:21
and I think also
6:23
making sure that I put myself at the priority, um
6:30
because I know that that doesn't always happen.
6:33
And when you become a parent, everybody tells you
6:35
everything is about the child.
6:37
I was like, "Of course you're my world, but...
6:40
I still have dreams,
6:42
I still have goals, I still have aspirations".
6:46
And it's important for me to still pursue those
6:50
and still take care of myself.
6:53
So, you know, I love a self-care day.
6:59
So that's one of the things that I feel like
7:02
is really, really different and having fun like,
7:06
I know I'm your mom, but
7:08
I still want to dance with you
7:10
I still want to
7:12
go out, hang out,
7:13
try different activities with you.
7:16
I think that there can be a balance
7:18
and it's important for us
7:19
to just have fun together.
7:23
Got you, got you.
7:27
What do you think
7:29
is the hardest thing for me, being a single mom?
7:32
Um...
7:39
Let me got to think about it.
7:43
I mean, at this age
7:46
I wouldn't really like know right now, but
7:49
probably like when I'm older, yeah, but
7:54
right now
7:54
I don't think like nothing is hard for you.
7:57
(Laughs)
7:59
Well, at this age right now, but yeah,
8:04
that's just me, though.
8:05
I mean that's flattering, um...
8:11
What do you think
8:12
was hard for me when you were a baby?
8:15
Um...
8:17
Well, I heard I was like really chill
8:19
when I was a baby, so— - You were.
8:22
Probably not me.
8:24
Um, just like,
8:28
probably like getting all the things for me.
8:31
Like...
8:32
Maybe like food or like...
8:35
Yeah.
8:39
Yeah.
8:45
What is the most powerful lesson I've taught you?
8:49
Uh, the most powerful lesson?
9:05
You teach me many things.
9:08
I would say one of the biggest ones is
9:12
just to be more compassionate.
9:16
Like, you're really compassionate.
9:20
So in a moment where
9:23
I'm in my feelings,
9:24
something has annoyed me or frustrated me like
9:28
when Starbucks gets my name wrong every time.
9:31
(Laughs)
9:32
And what did you tell me?
9:34
I forg— Oh!
9:34
You said,
9:35
you know, maybe she just made a mistake.
9:38
And
9:41
for you to tell me as the adult, right?
9:43
You always remind me like, "Hey,
9:45
people make mistakes" and it really
9:51
encourages me to be more compassionate,
9:53
not only to others, but also to myself,
9:56
like, "Hey, you can make a mistake, it's okay".
10:02
Got you.
10:07
You're okay?
10:07
Mhm, yeah.
10:13
How can I support you
10:15
even more in becoming the person
10:17
you want to be?
10:20
Um...
10:22
Just by doing what you are already doing like,
10:26
give me love, like peace.
10:29
Um, yeah.
10:34
It's okay.
10:35
But yeah, that's it.
10:39
So more of what's already happening.
10:43
I mean,
10:45
if you keep doing this then...
10:48
Yeah.
10:49
(Laughs) Okay, I— listen, I hear you.
10:53
When you look into my eyes what do you see?
11:00
When I look into your eyes...
11:05
I see lots of power,
11:10
lots of ambition,
11:14
lots of curiosity.
11:30
I see the best parts of me,
11:32
really.
11:44
Without the weight of the world.
11:50
I see that.
11:52
And I see your lashes that I'm somewhat
11:55
jealous of (both laugh).
11:58
Um, so yeah.
12:02
I mean, my eyelashes are good.
12:04
No, the lashes and the eyebrows.
12:08
I think that's it.
12:11
Hey there.
12:12
Thanks so much for watching.
12:13
If you enjoy that conversation
12:14
and you want to ask these questions
12:16
to your own family,
12:17
check out the and Family Edition card
12:18
game at theskindeep.com/shop.
---