[VIDEO] What Makes Us Family? | {THE AND} Relationship Project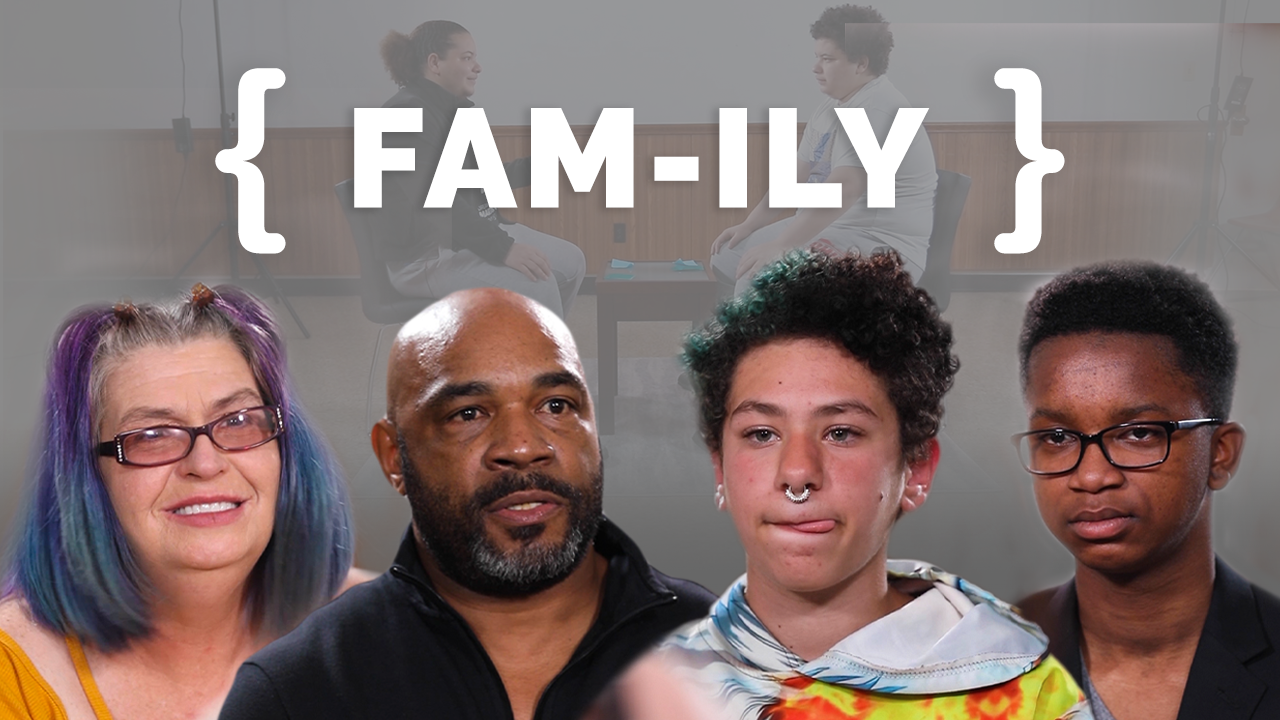 Video Summary
While the definition of the world family usually relates to blood-relation, it. might not always be the case. These relationships show us that family comes in all different forms.

As we explore new perspectives we invite you to step into the emotional space of connection and experience the deeper lessons that shared experiences can afford humanity. To everyone who has participated openly and vulnerably in our project - we appreciate what you have shared with us and hope others do as well.
Video Transcript

0:20
Mom...
0:23
What makes us a family?
0:40
- Oh man.
0:45
- What makes us family?
0:49
I don't, I don't know how to put it in words.
0:52
You just are.
0:55
And...
0:58
- Besides our blood, DNA and genetics.
1:01
Understanding each other.
1:04
Wanting to be around each other.
1:05
Loving each other.
1:08
What makes us family is
1:12
sharing time, sharing ideas,
1:14
talking, communicating,
1:15
not putting each other down.
1:17
- Family is not
1:21
being blood related at all times, you know?
1:25
Not only because you're my husband's kid, you know?
1:30
- What makes us family is that
1:32
there is no fight that I would never...
1:35
go, toe to toe, face to face
1:38
for...
1:40
when it comes to you and your sister and your dad.
1:43
- I don't think, I mean, I don't know
1:44
what you could say.
1:45
I don't think I can just move out of state and
1:48
be fine with it, like...
1:50
and you'd be all the way in other state, just
1:54
Cause if you'd had kids or I'd kids, like I don't.
1:57
I'm not doing, I don't do distant...
1:58
thing, I don't.
1:59
I'm not doing it
2:00
with my brother, my twin brother.
2:02
- I think what makes us family is...
2:07
the way that we stuck together.
2:10
It's been the four of us and we've stuck together
2:12
through some really
2:14
hard times that
2:15
none of us had ever navigated before.
2:17
We were learning together.
2:19
And I feel like we are stronger
2:21
than we've ever been.
2:24
So I think, that's what I think. "I love you",
2:27
is the basis, you know, of family.
2:31
But really, just how we fight together
2:33
Not bicker back and forth
2:34
but how we stand together
2:36
and face things.
2:38
- But we love each other and we...
2:39
support each other, we care about each other
2:41
and...
2:44
We genuinely enjoy spending time together.
2:47
You guys help when I do something.
2:49
You volunteer and
2:50
and you know, pick up some slack.
2:52
- I don't feel I have friends,
2:54
I feel I have family.
2:56
Does that make sense?
2:58
- Yeah, because like I said
2:59
you love with your whole heart so
3:01
of course you are gonna look at your friends
3:04
like they are your family because
3:06
we're taught that you're
3:07
suppose to love your family
3:08
more than anybody else and...
3:10
you do that with everybody.
3:12
All the time.
3:17
- And I don't know, you might have just been five...
3:20
and you said:
3:22
"Mom!
3:23
ILY
3:25
are the last three letters
3:27
of family ".
3:30
ILY, that means "I love you".
3:33
And I was like mindblown that...
3:35
like this five year old
3:36
took something so simple
3:38
and made it so...
3:39
like deep and complex.
3:44
- It's like one day you were just there and...
3:47
- You're my kid. - Now 14 later...
3:49
Years later I'm still here.
3:51
- Yes. - Sorry...
3:52
Sorry about your luck.
---